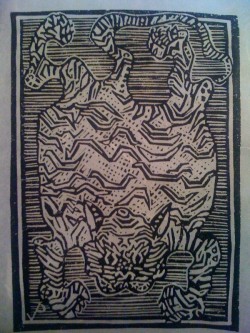 Love, Rose
tickles your fancy, 
send me a note
! This first post is by the multi-talented artist, writer, and creatress
Judith van Praag – Dutchess Abroad
.
The Transcendental Tiger Rugs of Tibet
Decembers always seem to fly by, everybody busy running around, fighting colds, giving and attending parties. That's the reason why I've come to embrace the start of the lunar New Year. In 2011 the Year of the Golden Rabbit begins on February the 3rd. It gives us all of January to get out those New Year's greetings, and another few moments to stand still and reflect on the past and on things that will sustain us in the future.
A moment in time lasts forever

Twenty years ago I visited the exhibition The Tiger Rugs of Tibet at the Royal Tropical Institute or KIT (Koninklijk Instituut voor de Tropen) in Amsterdam. This unique show had a tremendous impact on me. I remember coming in from the outside and leaving everything that was on my mind behind as I entered the carefully lit space. I recall the feeling of awe. Rugs absorb sound and the silence in the galleries created the sensation that I had entered a sanctuary. The woven images surrounding me seemed inhabited by the essence of the actual beasts portrayed in wool. Life size giant cats were watching me, or rather watching over me. I didn't feel threatened by their gaze, but soothed and protected. Eventually, after paying my respect to all, I set on the floor to meditate.
Creativity brings peace of mind

Some years later, at a difficult time in my life, I came across Mimi Lipton's fantastic book on the Tiger Rugs of Tibet,  the companion catalog to the show I'd seen before in Amsterdam. I recalled that inspirational meditative moment a few years earlier and picked up paint and brushes to create my own impression of the Mighty Tiger; a 5 x 5 foot red and golden abstract, followed by a stylized diptych in royal blue and gold and the linoleum cut of which you see a print in this post.
Just two years ago, a friend looking at my tiger inspired artwork decided the giant cat was my totem. At that very moment I realized I didn't need to claim ancestral rights, I did not have, I had created my own. That thought brought and brings tears to my eyes. The intention expressed in the re-creation of the tiger carries on. The tiger guards and protects, watches over us, and inspires to no end. Reason enough to add the image of my tiger linoleum print to this post and wish you all a happy, healthy and successful Year of the Rabbit.
What inspires and sustains you, what is a source of solace and inspiration?