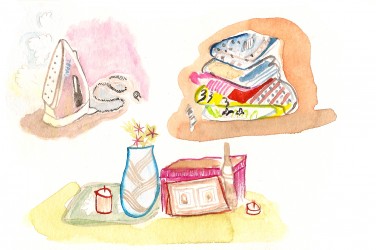 At the end of February, I called in backup. At first it was once a week. She would come in, bustle around the house and magically make dust and worry disappear. Once a week, food would appear in my kitchen. I would breathe in deeply and the house smelled good. Fresh and clean.
I started to need more of it. More disappearing worry, less dust and piles of laundry. Right before I boarded the plane in mid-February to go to Wisconsin, my husband and I had a quick heart-to-heart.
A pleading look on my part and a "yes, okay?" was answered with emphatic nod. "Yes, and yes." It was decided.
Truth be told, we all need our three-day-a-week miracle worker. I'm a less frazzled mama. Our sheets get ironed. I greet my husband with a smile instead of furrowed brow. My in-laws get a break from babysitting. She's warm and loving with my children. She has four herself, and when she can, she brings her daughters with her to my house. She's my age, but married at 17. She makes ironing look meditational. We come from very different backgrounds, but over tea, we can talk about anything.
The only oversight in my plan to have Sevim Abla join our household is that I thought I'd have more time to work. Silly me, what I really have needed is to slow down, play with my kids, sleep. And drink tea.
Self-care might be the single most difficult thing I've ever done. Does this sound familiar?
It wouldn't be an exaggeration to say I'm listening, truly listening, to my body for the first time in my life. My body refuses to cooperate unless I do. It's had enough of me living in my head more than my body. I never realized until recently that I don't know when to go to bed. I always just push through the tiredness. A trip to Bursa last week to a thermal water hamam was not only relaxing, but affirmed this big step to honor self-care. Here are some tips for women if you're on this same path yourself. Has your body ever given you the red light?