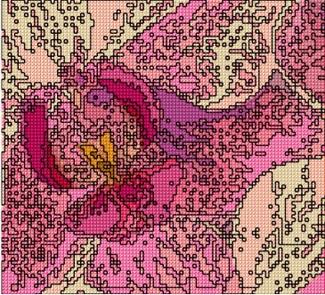 Stitch by stitch. Embroidery and cross-stitch are a staple of my creative practice. Stitching is relaxing. Addicting. Life-giving. Soothing.
When I met Charlie of Happy Threads on Twitter, I knew I had found a kindred spirit. Since a sunny afternoon in March 2009, she's been happily producing her own stitching charts and blogging about food, patterns, and crafty books. Get in line for her free patterns, but gear up for the stitching collections that display her prowess at combining whimsy and not-so-ordinary stitching charts, like her very painterly Abstract Orchid.
While we've been nurturing our friendship across the ocean, I realized I had a million questions to ask her about her creative practice. So I'm sharing a glimpse into Charlie's stitching world with my first Creative Peek interview here. Creative Peek: practice, ideas, and a studio glimpse. Enjoy!
Where are you from and where do you live?
I was born in the Belgian Congo to Belgian parents. I travelled with my parents and was raised as an expat child until I was 12 when we finally settled in Australia. I have lived in Australia ever since and am now an Australian citizen. I live in the beautiful city of Melbourne.
What was the creative impulse that started it all? Where did your desire to do something creative come from?
I have always had a creative side.  My aunt on my mother's side was an artist specialising in painting with water colors and my uncle on my fathers side painted with oils.  My brother is also an artist. My parents never encouraged me with anything creative. Despite the lack of encouragement, I was drawn to sewing, cross stitch, embroidery and art.  I don't know where the desire to create something comes from – it's always been there and it never goes away.
I taught myself how to sew by buying a commercial pattern and following the instructions. I wasted alot of fabric on my sewing journey but I was determined to figure it out. I also taught myself cross stitch and embroidery by reading lots and lots of books and experimenting. I have always loved colors, textures, and anything crafty. I absolutely love all things hand made. I also recently discovered photography. I bought my first camera a few years ago and I can't stop taking photos. My favorite subject are flowers and animals and I am addicted to my macro lens.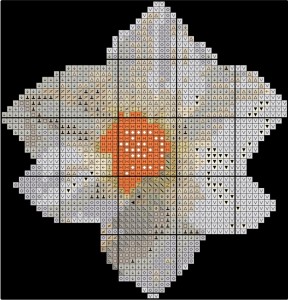 I then discovered blogging and thought I could combine my love of stitching and crafty things with a blog. One of the first blogs I read was Design Sponge and I was impressed by the fact that I could now read about so many things I loved on a daily basis and did not have to wait each month for a magazine. I love reading what everyone is doing and it is such a great way to exchange ideas and create communities of like minded people.
What does your creative space look like?
Most of the charts I design are created from an idea that pops into my head. I see ideas everywhere everyday. I am very lucky that I am constantly finding new things to create or new charts to design. I seem to have a creative fountain that I can draw on whenever I want it. I believe it is a gift and am very grateful to receive this constant flow of creative ideas. Sometimes I might sketch an idea in my notebook.  Other times I might take a photo of something I would like to create.  My creative space includes my small outdoor garden. It is the place I take most of my photos because the light is so much better than in my home.
I draw most of the designs from my charts  straight into my cross stitch software. I work at a small desk in my bedroom. I also have a craft table in my lounge area where I keep all my books, threads, wool, fabrics and other things I need to create the charts I make for Happy Threads. I am very lucky that I can create lovely things in a very small space and can use my general environment as well.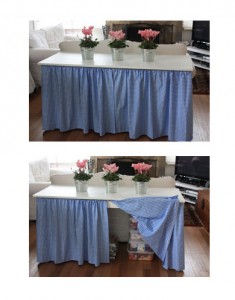 Nuts and bolts: how many hours a week do you get to work and how do you schedule your time?
I blog most days and it takes between one to two hours a day. I get up early most days and work before I go to my full time job and also work after I get home from my day job. I also spend almost every Saturday creating the content for the next week. This includes thinking about the ideas for the next week of posts, taking photographs of the flowers for the week and sewing anything I need to stitch. I try to fit stitching some of my designs after work most days. On Sunday I write blog posts for the week.
Creating the charts and preparing the content for the blog takes up most of my time. Overall, including weekends, I spend about 30 hours a week working on content, sewing, stitching and blogging. This commitment means that I have time for my full time job and my kids but there is not much time left over for socialising, watching TV or just lazing around. In fact, since I started Happy Threads I don't watch any TV at all and I don't miss it.
What is one thing about Happy Threads that has transformed your life?
Creating and working on Happy Threads makes me happy. For the very first time in my life I am actually doing something that I have always wanted to do and love. I have also enjoyed meeting people from all around the world through the blog and it has given me a voice and the ability to reach people in a way that was not possible 20 years ago. Most of all I am enjoying the journey.
Any road bumps along the way?
I would love to have time to stitch each of the designs that I create. I also don't have an army of stitchers around me that I can call on to stitch the designs. Another road bump was deciding whether I was good enough to create cross stitch charts. As I am not a trained fine artist or textile artist I was concerned that I could not produce anything that I could share. I discovered that if I believed in myself and the created the things I liked then it would be ok.
I also knew nothing about blogs before I began my journey. I had to learn about domain names, blogging platforms and css and html code. It is important to have someone who can guide you through the set up phase in the early days. It is also easy in the early days to think that no-one is listening or interested in your content and it can be discouraging when no one leaves a comment. It is important to decide what you want to achieve from your creative outlet and your blog. Blogging takes time and effort and it also takes patience, persistence and consistency.
Any advice for creative people that you've picked up doing your work?
If you are creative and you want to create and share it then start today. You can begin your creative journey in any way you want. If you have a creative side, then it will scream to be heard and won't go away until you embrace it and make it part of your life. I am so glad I did.
Now Charlie wants to know from you: does having a creative outlet balance out your life?
Download Charlie's Abstract Orchid stitching pattern here.