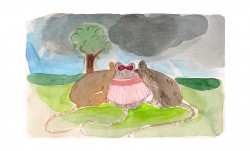 I'm pleased to announce a completed book illustration project called The Rat Friends Remember. The illustrations tell the story of three rats who are torn apart when there's a big move across the ocean. Of course, good friendships can transcend distances, which is just one of the reasons I love the book. Case in point, a good friend of mine on the other side of the world asked me to showcase some recent work, so I'm taking her suggestion.
View the rest of the illustrations here! The Rat Trio is personal book project, so not widely available, but another illustration project of mine for print and eb00k will be launching soon! My illustrations for American Monsters are done, and now we are working on the cover.
Get in touch with me if you've got an idea you'd like in full color – design, illustration, visual direction – that's the language I speak. I've got bookings available for the first time in months, so if you've got the inkling, now's the time!