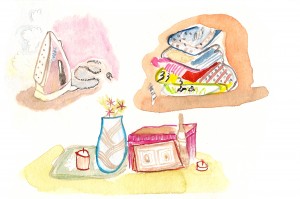 Will it change for better the course of someone's life (even if in a small, wonderful, personal way)?
Will it take them places they couldn't go before?
Likewise, will it satisfy a curiosity and longing for people who buy our work or talents?
As Abby Kerr Ink asks, what do your right people want more of in their life? What keeps them up at night?
If it's the whole package people are buying – the experience of working with you, the kinship, maybe an object – how has a shift to experience over objects affected art making and writing?
Creatives know that meaning drives desire.
Crafted objects and soulful products connect us to experiences that give meaning in unrestricted, non-time-centric ways. They tap into our imagination. For a split second or an eon, we actually live what we imagine ourselves doing and being and feeling with it.
A minimalist vase captured in zen repose promises the same simplicity and inner peace. A jasmine-scented shop selling hand-painted textiles and bedding makes us long for places we've never seen before. A flash of bold color on a breezy tunic and we whip up a scheme to be on a tranquil beach (I'm already dreaming of next year's plan to go to un-touristy Dalaman, Turkey).
As people like Dan Pink tell businesses that people want life experiences, not consumerism, and Seth Godin says art is a gift, you can only sell the souvenir, us creatives are nodding our heads, even though we are the ones that make memory's keepsakes. We get a trill of knowing when we glimpse something – a photograph of a place we long to visit one day, a pair of shoes that beg to be danced in, pretty journals to be filled with one-day-published stories – that's so familiar it feels like it's already ours.
Meaning-laden objects give us that soaring feeling of endless possibility. Of not only I-can-have-that, but I can *be* that. The photographer. The dancer. The writer.
It's the power and possibility of  signing up for that empowering course. Buying a plane ticket to somewhere new. Stocking up on resources to fill our creative coffers. Pleasure doesn't like to be neglected. Meaning-less can't go long without needed to be filled up with meaning-full.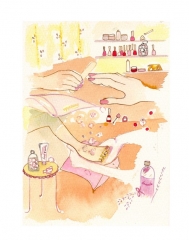 Being creative means being savvy, trusting the hands that draw you to create in the first place. You'll dig deep when you need to. Make something out of nothing, though you never for one second believed it didn't exist. It already existed in your mind before you ever made it.
________________________________________________________