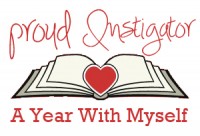 Ready for your very own personal adventure?
Sometimes something comes along right when we need it. Right when we need that push. Or nudge. Or maybe even just that whisper in our ear to trust our instincts, don't hold back, stretch out into our truth.
A Year With Myself is that very thing that showed up on my doorstep right when I needed it.
A year of making my hazy annual resolutions bloom into full color. The promise of a year of investigative, guided writing prompts for personal and professional breakthrough. As C.A. Kobu describes it, a year of "gentle empowerment" led by 70+ courageous, inspiring women including Cath Duncan, Dyana Valentine, Kelly Diels, Lisa Sonora Beam, Ronna Detrick, Tanya Geisler, Tara Sophia Mohr, Victoria Brouhard, and more. I'm thrilled to be an Instigator myself, the "sparker of dialogues and maker of pretty things," along with hybrid identity adventuress, Anastasia M. Ashman.
Which is why I need to share the lifeblood behind A Year With Myself: the Full Adventure Kit. Now. Before the price goes up on Monday, January 16 at midnight from $97 to $197. This window of time has passed, but it is not too late to get the self-study kit for $197 (before it goes up to $297 September 1.)
Become a Full Adventure member and get all 52 weeks of A Year With Myself. Learn how to hear and listen to your inner voice. Create a vision and mission for your life and business. Make peace with your past. Get rid of creative blocks. Be guided by Journal Prompts by 52 expert Instigators, Venture Maps, Power Questions, Explorer's Worksheets. Sounds holistic, doesn't it? As I wrap up the first draft of my novel, I know without a doubt I'll be turning to the wisdom and support of the Full Adventure Kit. I hope you'll join me.
52 weeks. 52 gifts. Unlimited potential.
How are you going to spend the next 52 weeks of your life?
If you're a hybrid, a creative, a seeker, this year is your year. Your very best year. I believe it. That is why I am an affiliate of the Full Adventure Kit.