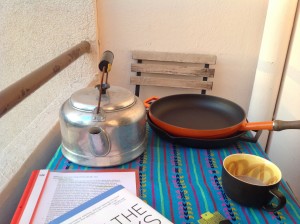 It's fall. I'm sitting on my balcony as the sun tucks itself behind the trees and buildings on the other side of the park. I'm wearing my red Badger's hoodie and at this moment, want the gratification that comes from writing something and seeing it published instantly.
The world is zipping by below – our version of rush-hour traffic as everyone tries to push through the narrow streets and congested intersections, the neighbor across the hall has a huge moving van parked in front of the building because they are moving in, the fountain in the park spurts on and off on a cycle I have yet to figure out (mostly at random), and an ambulance is blurting off in the distance. All this noise, and yet it is rather peaceful to sit here because our building is swathed in green – flowers and bushes and a swishing willow tree in the park. A half hour from now, the traffic will be gone and the night-time tea drinkers will crowd into the park and bursts of laughter will be interspersed by croaking frogs and the intermittent fountain.
Over nine years of living in Turkey, and homesickness never goes away. It diminishes, yes, but as one of my best friends here colluded – fall is the worst. Followed by Thanksgiving (for me), Christmas for both of us, and Easter (for her). And any other day of significance, the scent on the wind, or a craving for fish and dairy products in the same dish.
But then: look, pretty sky… the clouds are tinged pink and pale lavender, and the air is crisp and my cup of green coffee with a splash of coconut milk is delicious. On my stove is a squash-turnip-carrot soup and when it gets dark, I'll light my Autumn-scented candles and bask in my favorite time of the year. You can take the girl out of the Midwest, but never take the pumpkin-latte-homemade-pinecone-wreath-pie-maker out of the girl. I am probably more enthusiastic and a better Autumn-cheerleader from far away than I ever used to be up close in personal as the cooler weather crept into winter.
Though I doubt it – I've always been personally biased about September. It is when great things happen (like school starting, my birthday, and the leaves changing color).
In a few minutes, I will lose the light and move indoors. Because who likes writing by blueish iPad light when I can light a candle and pull on warm socks and rejoice in the glory that is all things denim?
The trees change color here, too.