Summer, 1986:
Age 8. Beat-up maroon rocking chair, yellow legal pad. Perfect handwriting giving way to messy scrawls. Perfectionist in me balks. Crumples up paper and throws onto the living room floor. Stories about horses and girl-run candy shops never see the light of day.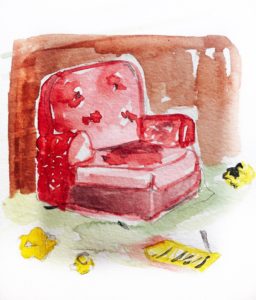 Spring, 1990. Spelling bee runner-up. Loses to 'sciscors'. I mean, come on!
1994-1997. Encouraged by Martin (Mr.), I co-run Exploding Pens, our high school literary magazine. I'm somebody's cosmic daughter, and emboldened, go on to write short stories that make him shake his head in disappointment.
OMG I love painting. And drawing. The 6th floor art department of Pius XI High School is my sanctuary.
1997-2000. I graduate with a BS in Art from the University of Wisconsin Madison. Study Hindi, Women's Studies, and Russian Lit. I fill journals with short stories and boxes with typewritten stories. Put them in a closet.
2001. As Art Assistant at Pius, I drink too much coffee and help future art stars work on their portfolios.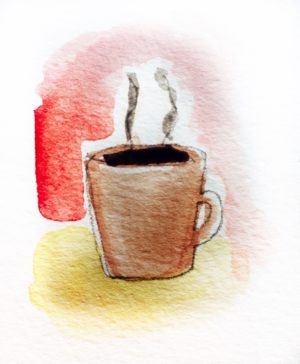 Over-caffeinating leads me to faint in the middle of a street and wake up in an emergency room with stitches on my chin. Some kind stranger gives me a blanket that I can't return because it is all covered in blood. It is Christmas Eve. Thus begins my bad habit of ending up in the hospital on holidays. I get accepted into art school at Cranbrook Academy of Art. Martinis ensue because I'm a grown-up now.
2002-2004. OMG I love being in the studio 24-7. I eat and sleep there. I may even move to New York when I graduate. Or Las Vegas. Or LA. Undecided. Baffled by the length of my thesis paper on Virginia Woolf and Emily Dickinson, my department head signs off on it. All of my paintings have literary spin-offs.
I meet the love of my life. One-month visit to Turkey to vacation and meet his family and I'm hooked. Of the 250 people at my wedding, 13 are my friends and family.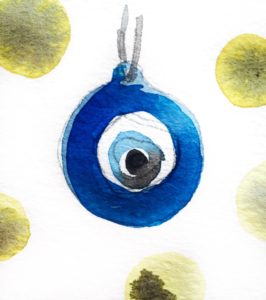 2005. Homesick in Turkey, I read Jane Austen.
2006. Still reading. Do not read The Kite Runner while pregnant. Just. Don't.
2007-2008. I write short stories that are rejected left and right. My brain hurts from learning Turkish. I illustrate stuff. Have a couple art shows. And another baby.
2010. One of my short stories gets published on Escape into Life. I start writing a book in August because summer in Turkey with two kids under five is the BEST TIME IN THE WHOLE WORLD to make a 1,600 words a day goal.
2011. Help comes in the form of a very patient writing teacher. And lots of wine.
2012. I join SCBWI, The Society for Children's Book Writers and Illustrators.
2014. My extract from the YA Sci-fi I submitted to SCBWI BI's Undiscovered Voices 2014 is longlisted. Yippee!! An agent is interested! WOOT! Except that the book has problems. Many. I fix them. I think. Query hard. #PitMad #KidPit. I start an Excel sheet to track my rejection letters. In pretty, color-coordinated fonts.
Full requests (writer friends, you *know* what this means) from #KidPit and query letters. Lovely, lovely feedback, but just not hitting the mark. I join a SCBWI critique group.
Summer 2014. This other book that I started writing has its hooks in my heart.
It's kind of a love letter to the universe.
Fall 2014 – Summer 2015. First draft written, I send the book in 3,000 word snatches to my far-flung critique buddies (California, Singapore, Belgium).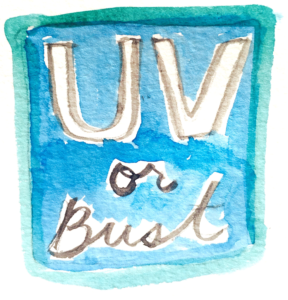 July 2015. Undiscovered Voices 2016 opens and I submit the first 4,000 words of my novel. The judges are thoroughly, utterly intimidating beyond belief and I'll never ever make the first cut because they are that amazing. Like I can't even.
December 2015. I make the longlist.
January 13, 2016. I make the shortlist. Would I like to attend the UV launch party in London? If so, buy plane tickets and fret about if they emailed the wrong person. Double check with coordinator Sara Grant. No mistake. The anthology is released. I don't sleep for an entire month.
February 25, 2016. The launch party where I hold one single flute of champagne in my clammy palm the whole night and try to remember to breathe. And not slouch. The room is full of editors and agents. I have a nametag on a pin and a copy of the anthology to remind me this is real.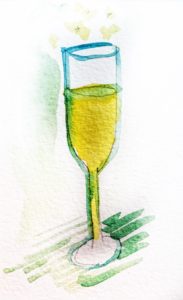 An email arrives in my inbox on a Friday. An agent has read my extract in the anthology and would like to read more. I reply with the full manuscript attached and hit send with my eyes closed. On Monday, a would you like to chat by phone? reply pops up in my email. OMG it's THE CALL.
I don't sleep ever again.
We talk. And she gets my book. We click.
I take some time to think. This is a big decision. I contact the other agents with my full. Let them know I have an offer. Jo and I meet in person. We discuss the book. What needs attention. I am buzzing because our conversation leads to all these exciting ideas for the manuscript. I can't wait to dive in. And I know this is the right fit.
March 8, 2016. I sign with Jo Williamson at Antony Harwood. My hands were shaking as I wrote my acceptance email to her (I even told her that).
It only took 30 years. Plus or minus.