Books + Writing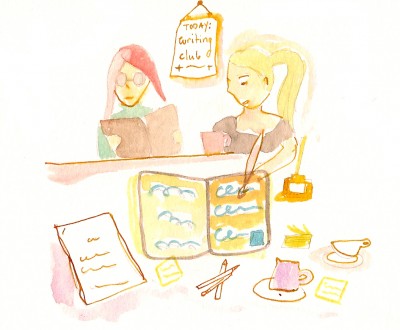 Fiction
THE EVOLUTION OF YOU AND ME, Finalist, Undiscovered Voices 2016.
50 FIRST DATES meets THE TIME TRAVELER'S WIFE when childhood sweethearts Pree and Kenner are pulled into a series of alternate dimensions as strangers, each one more dangerous than the last. In THE EVOLUTION OF YOU AND ME, the seventeen-year-olds must rediscover their love for each other before the final portal they get sucked into closes for good, separating them from their planet and each other forever.
(Download the gorgeous blue anthology including 12 amazing writers and 9 fantastic illustrators.)
TRACKED, Honorable Mention, Undiscovered Voices 2014
In young adult sci-fi thriller THE FADES, seventeen-year-old Merilee must choose between two identities and two boys from two very different worlds, if she is not caught by The Alliance of Global Security for leading a double life. Longlisted for Undiscovered Voices 2014 under the title TRACKED, the book received an honorable mention. Thank you to SCBWI BI and Working Partners for their dedication to sharing fresh new work and for helping unagented and unpublished writers get noticed.
Short Fiction
The Mercy Troupers, Escape Into Life, June 2010
Bylines
Social Media and Women's Empowerment, Tert.am, March 13, 2010
Social Media and Women's Empowerment, Hürriyet Daily News, March 12, 2010
International Local Living and The Weekly Dish Istanbul events column, Hürriyet Daily News, May 2009-May 2010
Mapping the Imagination, expat+HAREM 12/19/2009
Hybrid Domesticities, expat+HAREM 11/4/2009
No Delays, but Prepare for Breakdown, Hürriyet Daily News,8/29/2009
Got a Light? Hürriyet Daily News, 7/25/2009
The Year of Guilty Coffee, Hürriyet Daily News, 6/15/2009
Guest Posting